In the bustling urban landscape of Atlanta, small businesses often struggle to stand out. In a digital age, it's no longer enough to rely solely on word-of-mouth marketing or traditional advertising. To thrive, small businesses must harness the power of Local SEO. In this post, we'll explore why Local SEO is essential for small businesses in Atlanta and how Pinecone Media, a reputable digital marketing agency, can help you succeed in this competitive environment.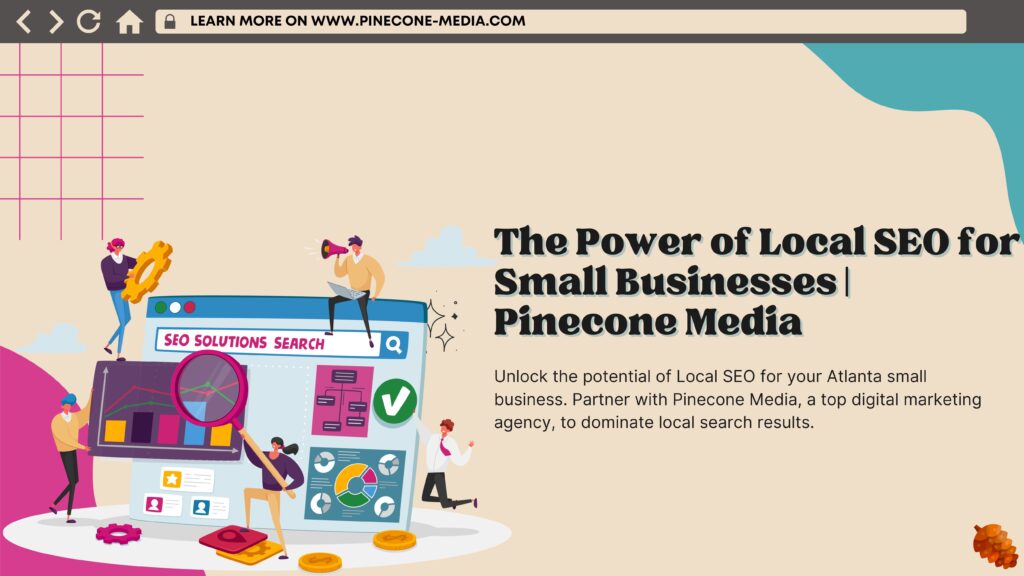 What Is Local SEO and Why Does It Matter?
Local SEO, or local search engine optimization, is the practice of optimizing a small business's online presence to attract more local customers through search engines like Google. It's all about improving a business's visibility in local search results.
Small businesses in Atlanta often face stiff competition. Local SEO helps them appear in the coveted "local pack" or "3-pack," which are the top three search results that show up in the map when someone performs a local search. Being in this pack can significantly boost your business's visibility and credibility.
How can Local SEO benefit my small business in Atlanta?
For small businesses, especially those in bustling cities like Atlanta, Local SEO offers several advantages:
1. Increased Visibility: Local SEO helps your business show up in local search results, making it easier for potential customers to find you.
2. Targeted Traffic: It drives the right customers to your website or store who are more likely to make a purchase.
3. Enhanced Credibility: Being listed in the local pack builds trust with potential customers, making them more likely to choose your business.
4. Mobile Optimization: As more people use mobile devices to search, local SEO ensures your business is accessible to them.
Can I handle Local SEO on my own?
While it's possible to start optimizing your business for local search, the intricacies of SEO can be challenging to navigate. Many small business owners in Atlanta choose to partner with experts like Pinecone Media to ensure their Local SEO strategies are effective.
The Role of Pinecone Media
Pinecone Media, a well-established digital marketing agency in Atlanta, specializes in helping small businesses maximize their online presence through Local SEO. With a dedicated team of SEO experts, Pinecone Media offers tailored solutions that work.
What sets Pinecone Media apart?
What distinguishes Pinecone Media is its holistic approach to Local SEO. They conduct thorough local keyword research, optimize your Google My Business listing, manage online reviews, and ensure your website is responsive and mobile-friendly. Pinecone Media believes in the power of personalized strategies, tailoring their services to each small business's unique needs.
How do I get started with Pinecone Media?
Getting started is as easy as reaching out. Simply contact Pinecone Media, and their experts will assess your small business's current online presence and develop a customized Local SEO plan that aligns with your goals.
In conclusion, small businesses in Atlanta must recognize the power of Local SEO. It's the key to standing out in the crowded digital marketplace and attracting local customers. By partnering with experts like Pinecone Media, your small business can thrive in the competitive landscape of Atlanta, gaining the visibility and credibility it deserves. Don't wait; start your Local SEO journey today.