In the ever-evolving landscape of digital marketing, it's crucial for businesses to partner with an agency that not only keeps pace with the latest trends but also pioneers innovation and consistently delivers outstanding results. Pinecone Media, an Atlanta-based digital marketing firm, has proven time and again that it stands head and shoulders above the rest in the fiercely competitive world of marketing. In this blog, we will explore why Pinecone Media is celebrated as the best marketing firm in Atlanta, highlighting its top-notch services and reasonable pricing, and how it earned the prestigious recognition of being featured as one of the best digital marketing firms in Atlanta in 2022 by Design Rush.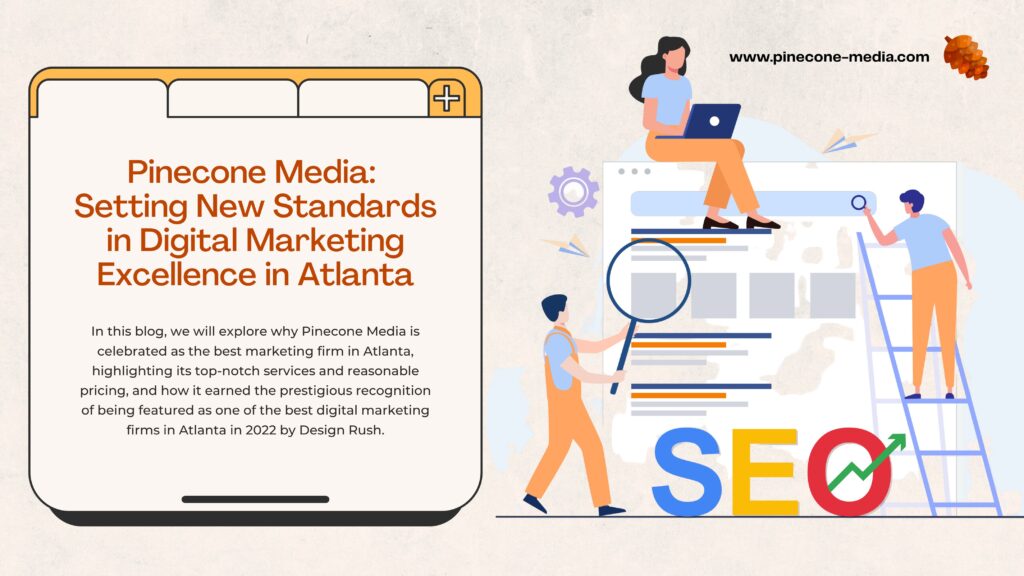 A Glimpse into Pinecone Media's Expertise
Pinecone Media has emerged as a trailblazer in the digital marketing domain. Their services cover a wide spectrum, including SEO, SEM, PPC, and branding. What sets them apart is their unwavering commitment to excellence and a deep understanding of the unique challenges faced by businesses in Atlanta.
SEO: Navigating the Complexities of Search Engines
In the digital era, visibility on search engines is the key to attracting organic traffic. Pinecone Media has mastered the art of SEO, helping businesses climb the search engine rankings. Their expert team employs cutting-edge strategies, optimizing websites to perform at their peak potential. From keyword research to on-page and off-page optimization, Pinecone Media leaves no stone unturned in ensuring that their clients dominate search engine results pages.
SEM: Precision Targeting for Instant Visibility
Search Engine Marketing (SEM) is a fast-paced game, and Pinecone Media excels in it. Their SEM campaigns are designed for precision targeting, ensuring that your ads reach the right audience at the right time. By utilizing the power of platforms like Google Ads, they craft campaigns that generate leads and conversions while optimizing your ad spend.
PPC: Maximizing ROI with Pay-Per-Click Advertising
Pinecone Media understands the significance of a well-structured Pay-Per-Click (PPC) campaign. They go the extra mile to ensure that your ad dollars are spent wisely. By meticulously crafting ad copy, targeting the most relevant keywords, and continuously monitoring and refining campaigns, they help you achieve maximum ROI.
Branding: Creating a Lasting Impression
A brand's identity is its most valuable asset. Pinecone Media knows this well. Their branding services are designed to create a lasting impression. From logo design to crafting brand stories, they ensure that your brand resonates with your target audience and stands out in a crowded marketplace.
Unmatched Quality at Affordable Prices
One of the hallmarks of Pinecone Media is its commitment to providing top-notch services at prices that won't break the bank. In an industry where pricing can often be a barrier, Pinecone Media's approach is refreshingly different. They believe that businesses of all sizes in Atlanta should have access to world-class digital marketing expertise without compromising their budgets.
Design Rush's Stamp of Approval
In 2022, Pinecone Media received the prestigious recognition of being featured as one of the best digital marketing firms in Atlanta by Design Rush. This acknowledgment further solidifies their position as an industry leader and a trusted partner for businesses in Atlanta looking to grow and thrive in the digital landscape.
Partner with Pinecone Media for Digital Marketing Excellence
Pinecone Media has rightfully earned its reputation as the best marketing firm in Atlanta. With a dedicated team of experts, a comprehensive range of services, competitive pricing, and the trust of industry leaders like Design Rush, they are the go-to choice for businesses seeking excellence in digital marketing. To unlock your brand's full potential and experience results that exceed expectations, partner with Pinecone Media today. Visit their website at Pinecone Media and take the first step towards digital marketing success in Atlanta.